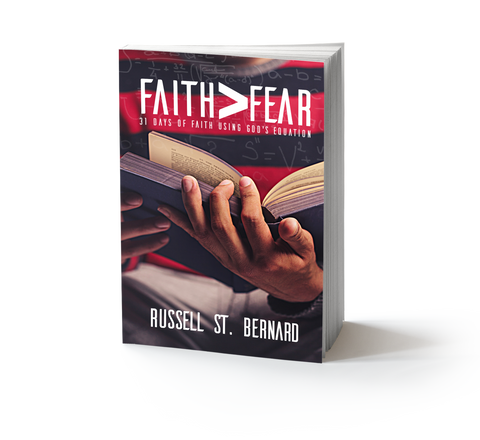 Faith Greater Than Fear (Faith > Fear)
Fear is something that everyone deals with in life. Whether you are young or old, single or married, live at home with your parents or just moved out, there are bound to be some moments of fear. Having moments of fear isn't the problem; however, the problem comes in when you allow those moments of fear to control your life and then you have a "spirit" of fear. The Bible says in 2 Timothy 1:7 "For God has not given us the spirit of timidity, but of power and love and discipline." The word "timidity" here is the Greek word "deilia" which is translated as fearfulness or cowardice. This means that while we might face moments of fear throughout our lives we can't allow this to make us cowards. We have to trust God and have more faith in God than we have fear in the world.
This 31 day devotional is designed to help you live by God's equation for our life.  God has created us to have more faith in Him than fear in the world. 
Each day you will have the "Scripture," which is simply the scripture for the day, the "Say what" which is the scripture explained in a few lines, and the "Breakdown" which is the actual devotion for the day. Then we have the "Live it out" which will be a few lines to help you act on this scripture today. The "Prayer" is next which is simply the daily prayer and then we have the "Reflection" which is the section in each day for you to write your notes and thoughts for the day. The reflection is key for you to treat this devotional like a journal to track your thoughts and come back to it later.
Ok let's get started with day 1 on this journey that we will take together on the road to having more faith than we have fear, using God's equation.